Previous meetings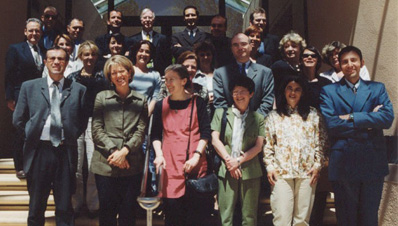 DERMATOLOGY AND QUALITY OF LIFE
Scientific program
Pr A. Finlay (College of Dermatology, Cardiff)
Quality of life evaluation techniques in dermatology: Dermatology life quality index (DLQI).
Dr A. Dazord & Dr Magnificat (INSERM, Saint Jean de Dieu Hospital, Lyon)
Quality of life in infants.
Pr P. Humbert (Dermatology Department, Saint Jacques Regional University Hospital, Besançon)
Disability in chronic dermatoses: atopic dermatitis.
Ms Lamirand (French association of atopic dermatitis sufferers - AFPADA)
Understanding atopic patients.
Dr Ch. Taïeb (Pharmaco-economic program manager – Pierre Fabre)
Presentation of the survey on quality of life at the hydrotherapy center (2002 season) and the first results.
Pr J. Meynadier (Dermatology department, Montpellier University Hospital Center)
Disability in chronic dermatoses: psoriasis.
Ms Corvest (President of the association to combat psoriasis – APLCP)
Dr S. Scheewe (Dermatologist, Fachklinik Sylt, Germany)
The German experience of treatment schools devoted to atopic dermatitis and psoriasis.
Dr Berger (Hydrotherapy doctor, Dermatologist, Béziers)
Overall care for patients during hydrotherapy.
édition précédente

previous meetings