Previous meetings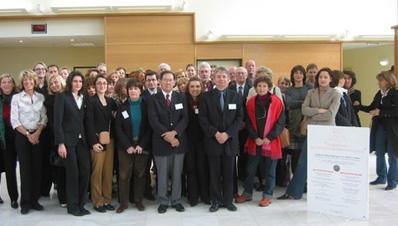 PROSPECTS IN DERMATOLOGICAL HYDROTHERAPY
Scientific program
Pr J. Meynadier (Dermatologist, St Eloi University Hospital Center, Montpellier Mutual Clinic – France)
History of medical hydrotherapy.
Dr D. Guerrero (Dermatologist, Béziers)
Spring waters and how they are used.
Dr B. Kunz (Dermatologist, Germany) & Ms. Lamirand (author of the book "Chronique d'une dermatite atopique" - Béziers, France)
Primary hydrotherapy indications: expectations Atopic dermatitis.
Dr Le Maître (Dermatologist, Caen - France) & Mrs. Corvest (Association to combat psoriasis, APLCP – Paris, France)
C. Roques (Physiotherapist, Lamalou Center - France) & Paul Vilain (French Association of Burn Victims, ABF – Paris, France)
Burn victims and healing disorders.
M. Oudet, (Maison de l'Atopie – Lavaur, France)
Tools for overall care for patients Therapeutic education in a hydrotherapy environment.
J. Nonni (Avène les Bains Hydrotherapy Center, France)
Corrective medical make-up.
Dr Malet (French-speaking society of psychosomatic dermatology, SFDP – Paris, France)
Psychological dimension of patients with chronic dermatoses.
Pr C. Nguyen Ba (Hydrotherapy Institute – Victor Segalen University - Bordeaux 2, France)
Challenges in evaluating courses of hydrotherapy.